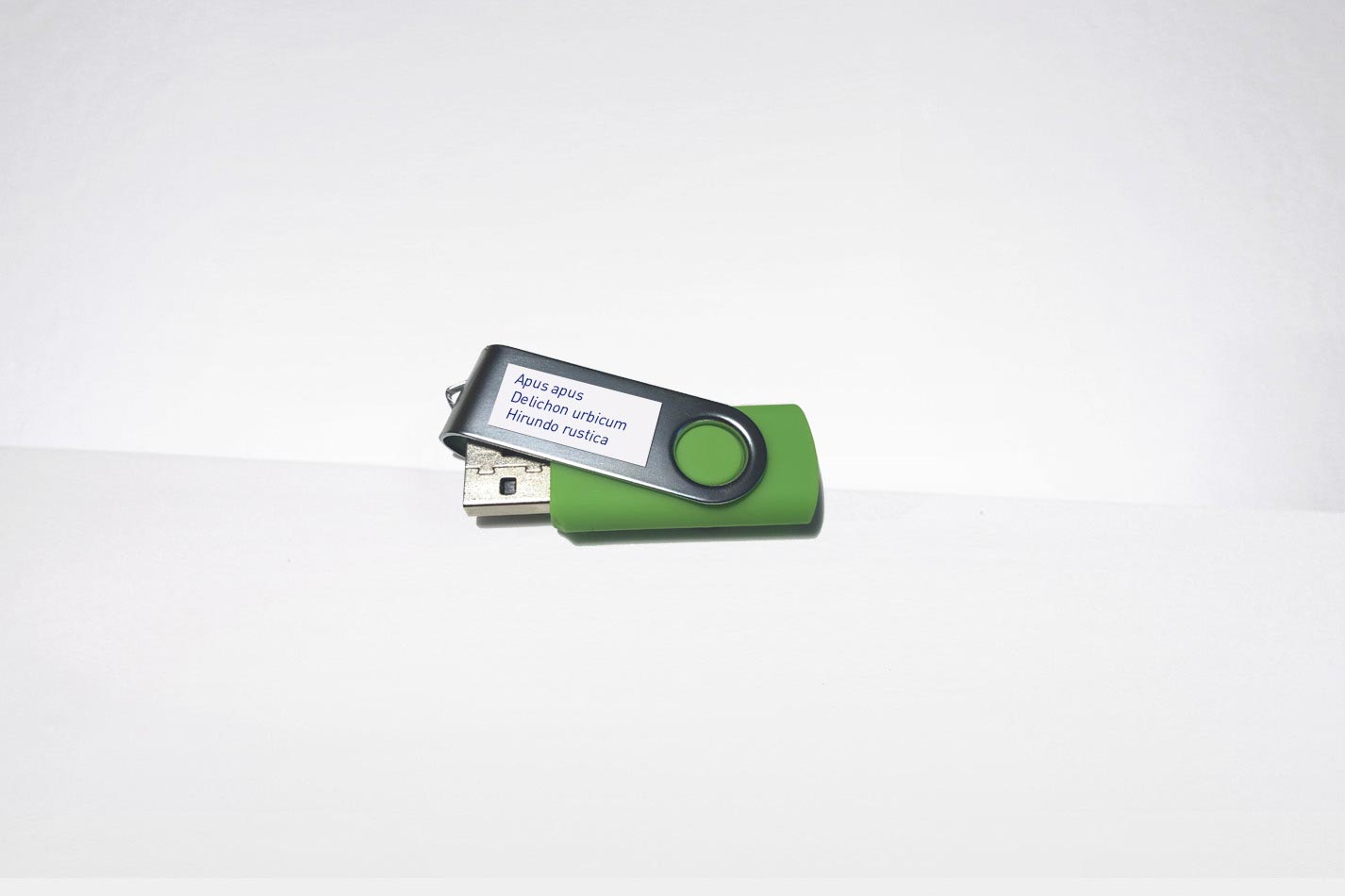 Bird calls for bird Attraction Call System
Available in 3 days, delivery time 2-5 days
Product number:
GS10016.1
Product information "Bird calls for bird Attraction Call System"
Bird calls to expand the Attraction Call System - Optional: Common swift, martin, barn swallow
To expand the sound mock-up with bird calls, you can optionally order common swifts, martin calls or barn swallows. The lure calls increase the success of the settling of martin, swifts and barn swallows.
A USB stick is supplied, which contains the corresponding calls from the birds. Simply replace it in the Attraction Call System with the original USB stick and attract the respective bird species.
Feel free to send us an email if you would like a different bird species.
Scope of delivery: 1 x USB stick with bird calls of a kind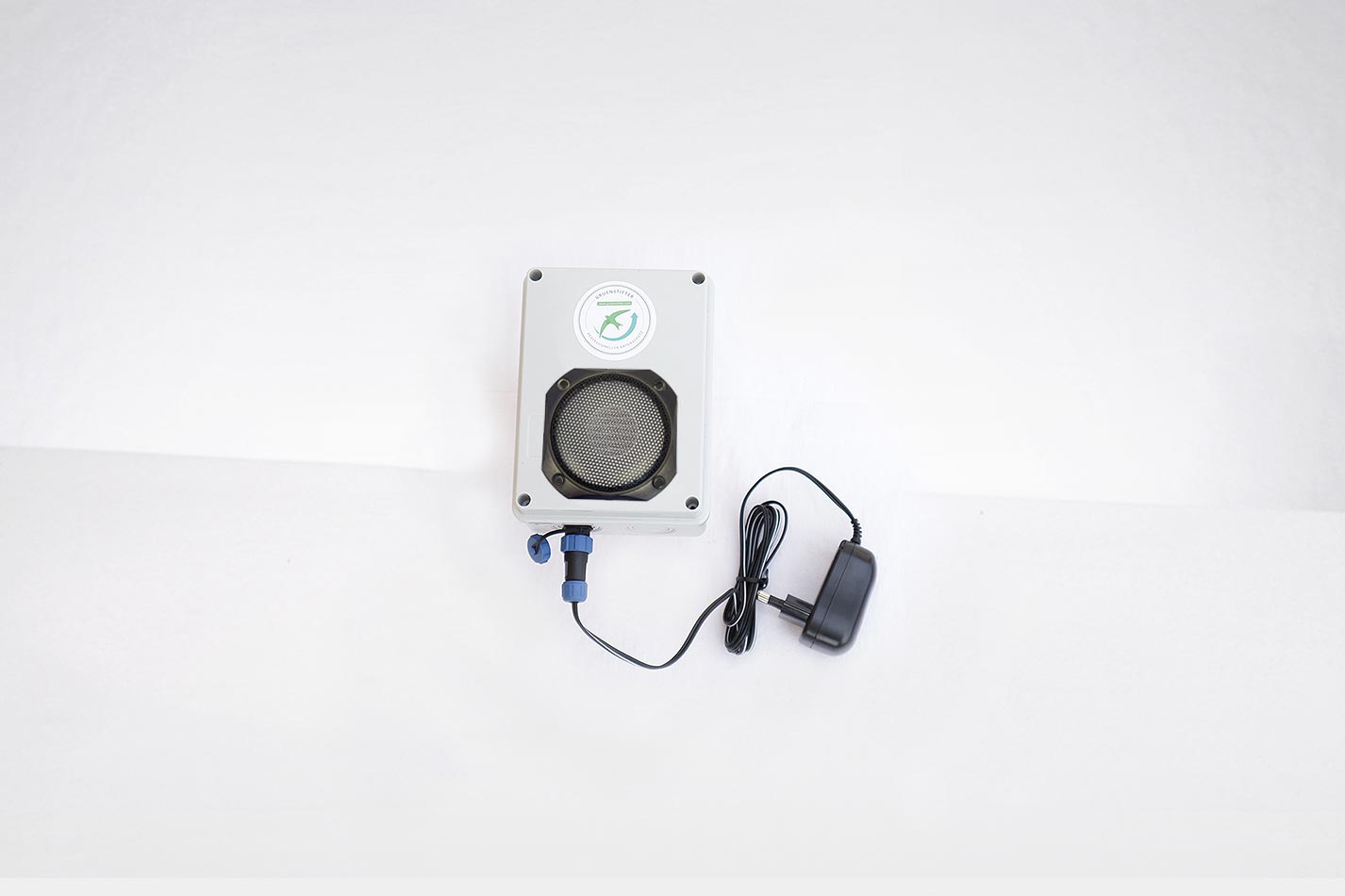 Attraction Call System 230 V
Attraction Call System for the settlement of different bird species - 230V.In order to draw attention to nesting sites from exploring swifts, meal swallows or barn swallows , a Attraction Call System is installed that plays sounds from the respective breeding colonies. The Attraction Call System is operated with a 230V power supply unit (included in delivery). The Attraction Call System can be programmed with a timer on 16 different on and off times. The desired swifts or swallow calls are supplied pre-installed. The sounds are set to 100 dB by default.Dimensions (L x W x H): approx. 12 x 16 x 8 cmThe cable entry or the connector protrudes approx. 4 cm from the housing side and has a diameter of approx. 2 cm.Product weight : 700 gramsInstructions for the Attraction Call System and the timer are included.The Attraction Call System is waterproof according to IP65 = dustproof and protected against water jets from any angle.Our Attraction Call System in action:
Content: 1 Stück
€520.00*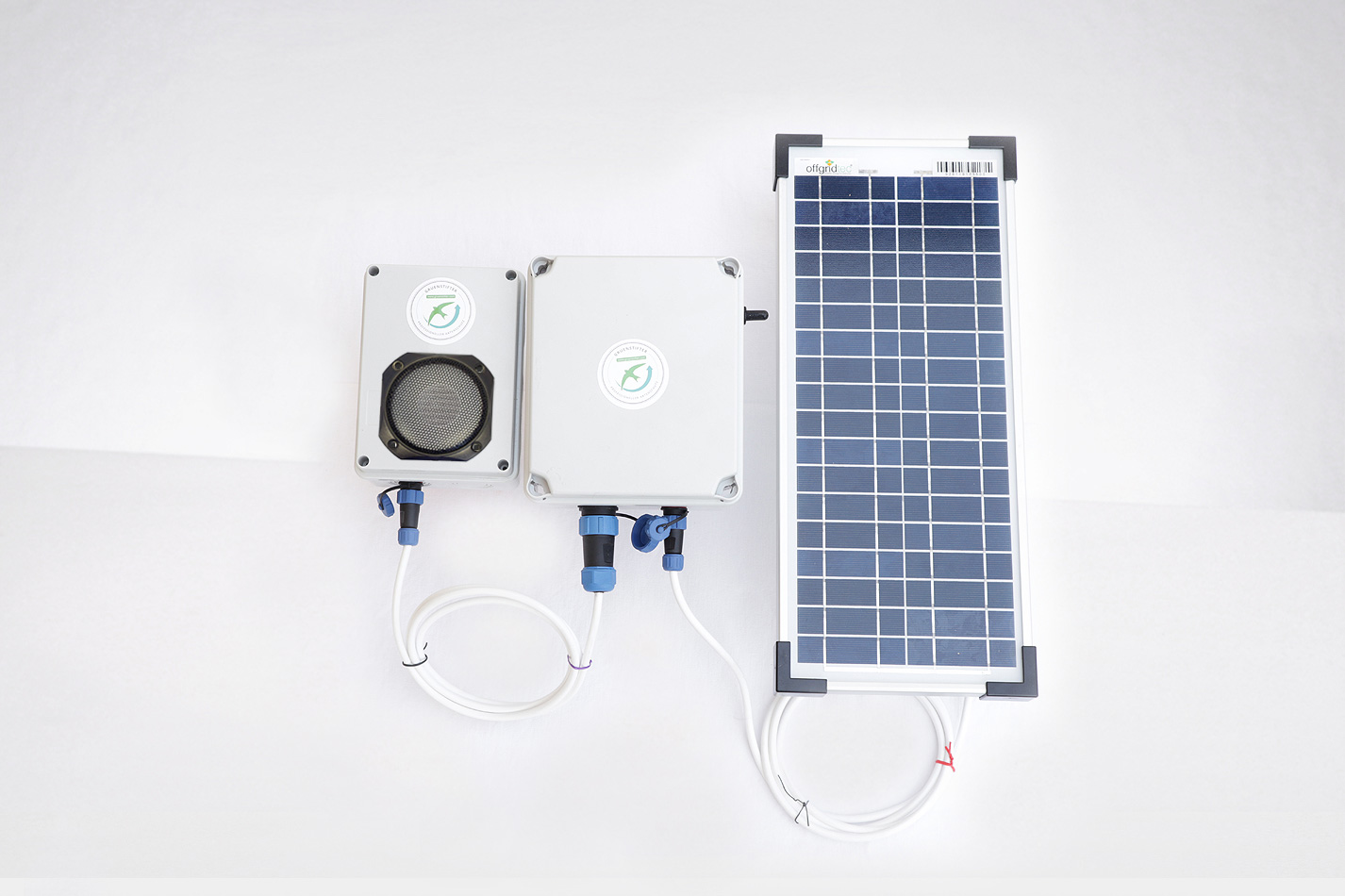 Attraction Call System Solar
Attraction Call System with solar module for attracting birds: In order to draw the attention of nesting locations to exploring swifts, meal swallows or barn swallows, a sound dummy is installed that plays sounds from the respective breeding colonies.The Attraction Call System is operated with a battery and a suitable, small solar panel (included in delivery).The Attraction Call System can be programmed with a timer on 16 different on and off times.The desired swifts or swallow calls are supplied pre-installed. The volume is set to 100 dB by default.Outside the breeding season, the Attraction Call Systemshould be stored and properly maintained. Instructions are included with the product.Product dimensions (L x W x H):Sound box: approx. 12 x 16 x 8 cmBattery box: approx. 16 x 18 x 10 cmSolar panel: 44 x 18 x 3.5 cm Cablesare between the individual components installed a length of 3 meters .The cable bushings / plugs protrude approx. 3 cm from the housing side and have a diameter of approx. 2 cm.The Attraction Call System is waterproof according to IP65 = dustproof and protected against water jets from any angle.Frequently asked questions and answers can be found here.Our Attraction Call System on a swallow house: with solar module for attracting birds: In order to draw the attention of nesting locations to exploring swifts, meal swallows or barn swallows, a sound dummy is installed that plays sounds from the respective breeding colonies.The Attraction Call System is operated with a battery and a suitable, small solar panel (included in delivery).The dAttraction Call System can be programmed with a timer on 16 different on and off times.The desired swifts or swallow calls are supplied pre-installed. The volume is set to 100 dB by default.Outside the breeding season, the Attraction Call System should be stored and properly maintained. Instructions are included with the product.Product dimensions (L x W x H):Sound box: approx. 12 x 16 x 8 cmBattery box: approx. 16 x 18 x 10 cmSolar panel: 44 x 18 x 3.5 cm Cablesare between the individual components installed a length of 3 meters .The cable bushings / plugs protrude approx. 3 cm from the housing side and have a diameter of approx. 2 cm.The Attraction Call System is waterproof according to IP65 = dustproof and protected against water jets from any angle.Our Attraction Call System on a house martin house:
Content: 1 Stück
€630.00*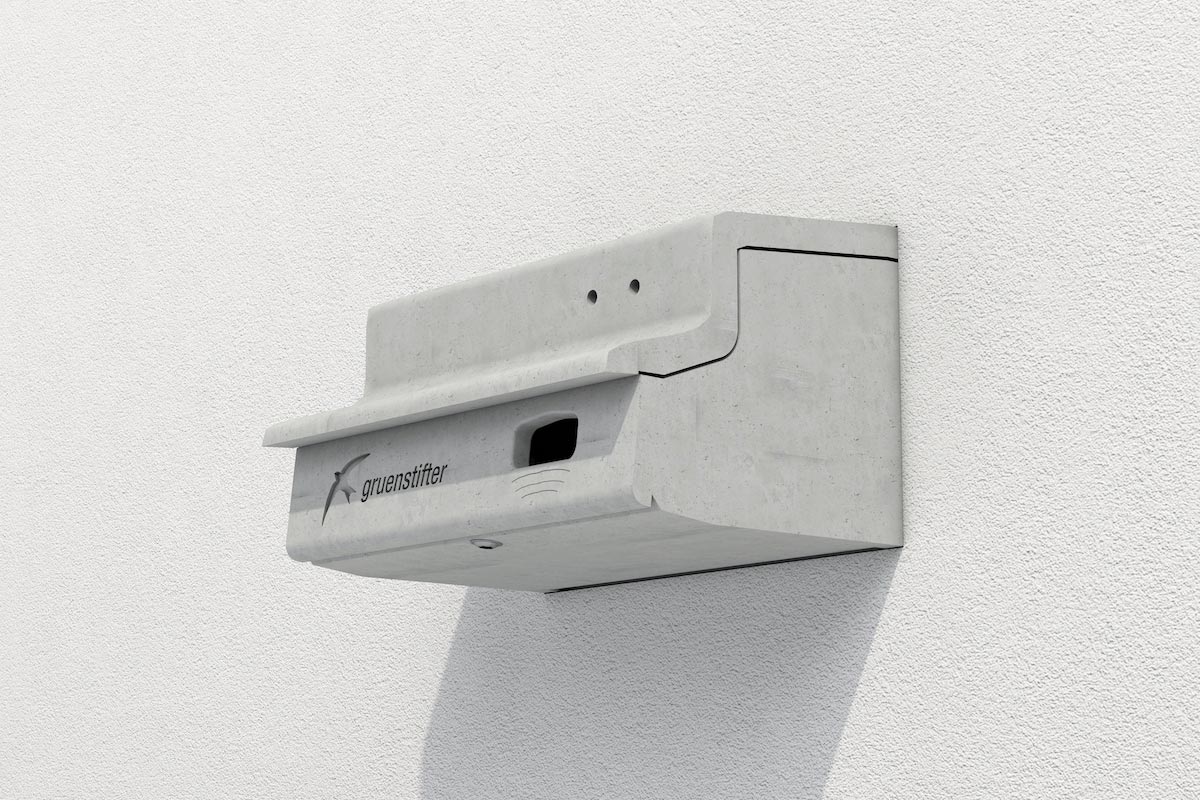 Common swift nest box for common swifts, sparrows and bats
Common swift nest box - NEW on the market. An alternative to Schwegler. Developed by ornithologists.This nesting box is suitable for swifts, sparrows and bats.The nest box a nest hollow as a nest for swifts integrated so that the eggs do not bounce or roll.The brood chamber is optimally adapted for maximum breeding success for swifts.The young animals have enough space to train the flight muscles.The brood chamber is designed so that overheating of the box with loss of brood is greatly minimized by the height and two separate ventilation holes.The ventilation holes are installed so that there is no drafts. An edge above the entry hole increases the likelihood of the nesting aids being settled, since common swifts like to fly to exposed edges and eaves in the parapet area in search of roosting quarters.A columned area for bats is integrated on the back wall of the boxes .The niche can be used by bats as a roost or nursery. The common swift nest box can also be used as a compensatory measure for sparrows (especially house sparrows ). Suitable for buildings , in an attractive design.Developed with years of experience.Made in Germany.A special recommendation for compensation measures and CEF measures for building breeders.The ideal nesting aid for swifts and house sparrows.This new swift nesting box model combines many advantages: Easy installation in the ETICS system. Easy installation on the facade. Maintenance option by removing the front panel. The perfect nesting box for compensatory measures, as it is suitable for both breeding birds and bats. Thanks to the new design, cold bridges are avoided more effectively. Easy installation on the facade. Maintenance option by removing the front panel. Thanks to the new design, cold bridges are avoided more effectively. The nesting box can be painted with facade paint. Self-explanatory without building instructionsOrder the swift box now.Short delivery time.You can now buy and pre-order the all-in-one nesting box for swifts, sparrows and bats online.Minimum purchase: 6 pieces.Material: concreteScope of delivery: including dowels and screwsDimensions: External dimensions: W 35 x H 20 x D 24 cm.Brood chamber: W 30 x H 18 x D 18 cm. Suspension by screwing from the inside.Entrance hole: W 60 x H 30 mm.By attaching you make a contribution to the protection of swifts. With this box you create nesting places.+++ We donate 1% of the proceeds annually to projects in environmental education to protect nature +++
Content: 1 Stück
€138.00*